Back to all posts
Posted on
Sharing the gift of vision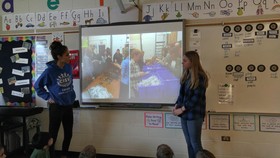 Some Grade Nine students took a trip back to grade one today to invite the first graders into a story of Justice Seeking and praising God for the gift of sight.  Last year, when they were in grade 8, these students took a trip to help clean, grade and sort eyeglasses as part of their grade 8 science unit on the eye.  It was fun and meaningful work on behalf of people whose life circumstances prevent them from seeing the world clearly because of easily corrected vision problems.  
Today, that story continued as these same students talked to grade 1 classes who are studying the senses.  The grade 1 classes are collecting glasses for the eyeglass recycling facility and were excited to learn about what would happen to these glasses.  Later this year the grade 8 classes will take the donations to the recycling centre and get them ready to send overseas.
Vision is a good gift from God and our students want to share the gift of corrected vision around the world.