Alumni Tournament
2018 Alumni Tournament - Save the Date for December 29!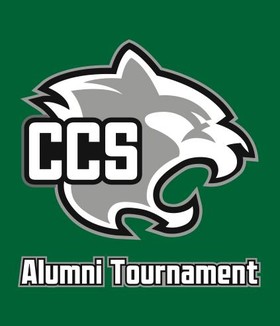 Community. Teamwork. Competition. School Spirit.  
The SIXTH annual Alumni Tournament is coming up on Saturday, Dec 29, 2018!  (Due to low participation, the Basketball game scheduled for Friday Dec 28 has been cancelled) 
Registration to participate as an athlete is now closed, but we invite the CCS community to participate as a spectator or as a volunteer! Volleyball games begin at 9am on Saturday, December 29 at the Secondary Gymnasium  (5029-26 Ave SW, Calgary).  If you are able to donate a door prize, or volunteer as a volleyball referee (some experience required) or scorekeeper (no experience required), please contact our Alumni Liaison at kdees@calgarychristianschool.com.


FIND THE VOLLEYBALL SCHEDULE HERE.  
We're looking forward to a great time!
Contact Karen, Alumni Liaison, for more information at: kdees@calgarychristianschool.com
Alumni Tournament Photos
There's something about putting on the CCS Cougar logo and hitting the court to compete, even if it just is for fun! Look how great it is to reconnect with old teammates and participate in the Alumni Tournament! Join us again this year!