Cougar Basketball Invitational - Gr 8/9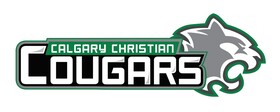 High School - 5029 26th Ave SW T3E-0R5 - Enter North Side Gym Entrance
Elementary School - 2839 49th St SW - Enter West Side Gym Door
WELCOME TO THE CALGARY CHRISTIAN SCHOOL
GRADE 8/9 BASKETBALL INVITATIONAL
January 10-11th, 2020
Dear Participant:
The students and staff of Calgary Christian School wish to extend to you a warm "WELCOME!" and "BEST WISHES" during our Invitational Tournament this year! While you are visiting our school, we would appreciate your cooperation in ensuring that everyone in your party adheres to the following expectations:
FOOTWEAR:    Please remove dirty or wet footwear at the door. As well, hard- soled shoes or boots are not allowed on the gym floor.
VALUABLES:   Each team is responsible for ensuring the safekeeping of valuables. DO NOT KEEP VALUABLES IN THE CHANGE ROOMS.
WASHROOM FACILITIES: Washroom facilities and changing rooms are provided for public and team use.  Please keep them clean.
FOOD AND DRINK: Refreshments other than water are allowed only outside the gym. Please use the garbage and recycling containers.  A concession is available in the hallway outside the gym.
COACHES and OFFICIALS LOUNGE: A lounge is provided for coaches and officials.  It is located in Room #129 across from the gym entrance.
SUPERVISION: We request that a school sponsor be present with your team while they are in our school.
FAN SEATING: Fans must sit in the mezzanine upstairs to view games.
TOURNAMENT SCHEDULE:  An updated schedule with scores is posted outside the HS gym on the bulletin board.
We thank you for your cooperation in the above matters and look forward to a great tournament!
Mark Jonker
Tournament Organizer