Art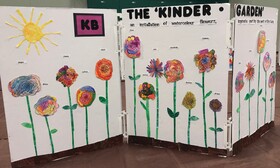 Calgary Christian School has a rich tradition in the Visual Arts, which has always been showcased and celebrated. Art is a universal language that brings people together, creates beauty for others to enjoy, and often makes us marvel at the majesty and creativity of God's world. We acknowledge God as the Master creator and artist, and, through our own works of art, aspire to bring glory to Him. 
We hope you enjoy this showcase of student art!
Gr1 Submission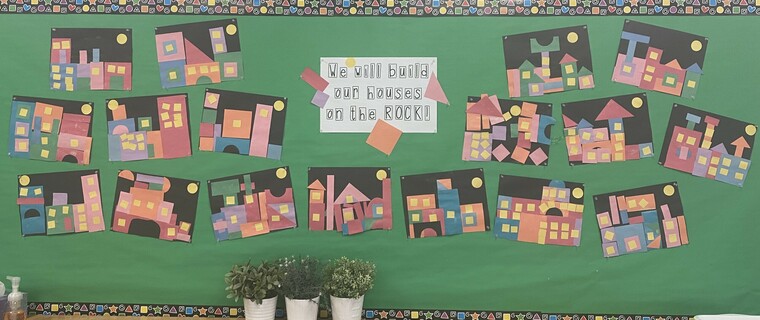 "One important theme in Grade 1 is our study of Community.  We look at how we belong to our various communities, at how communities change, and how God can use us to bless other people in our Communities.  Grade Ones are natural Community Builders!"
(The photo is one of our community based art projects.)
Painting, Cutting, Creating!
Lois Ehlert's book "Snowballs" was the jumping off point for this Kindergarten art lesson. Following the template of the bird helps the students develop their fine-motor skills, while leaving them feeling quite empowered with their beautiful finished product. These winter birds in birch trees transformed our classroom into a winter wonderland!




Geodes!
The highlight of the Grade 3 art program this year was a geode project which tied into our unit of Rocks and Minerals. We used acrylic and fabric paints, plastic crystals and gems, glitter, and resin. The project was completed over 4 very fun and messy art blocks. We learned how geodes form as beautiful "surprises" that God has hidden among the minerals within some rocks. It is a neat example of the beauty-creating that God formed in those first 6 days!
Pointillism
The Grade 4 Pointillism art project had students make pictures using just dots. This showed students that when they are close up to their project an image can seem out of focus and not make sense. But when they took a step back, it became focused and clear. This is the same with our lives, sometimes we need to just take a step back and look at the "bigger picture" to see how God is revealing himself to us.