Back to all posts
Posted on
Showing Love to our Neighbours!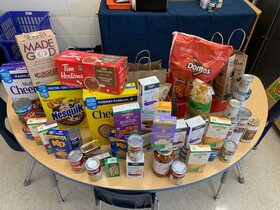 Grade Two FLeX Project and Celebration of Learning!
This year, to live out 'valuing others above ourselves' from our Theme Verse in Philippians 2:3-4, our grade Two classes were invited to show LOVE by bringing food items that were donated to the Tsuu T'ina Nation food bank. 
Instead of exchanging student Valentines such as cards or treats, students were encouraged to bring in non-perishable food item(s) between February 8-12. In class, we celebrated our love, kindness, and friendship by making sacrifices to show love to others, making Valentine's crafts, and exchanging friendly notes on Friday, February 12th.  We are so thankful that our grade 2 students and their families were happy to participate in demonstrating LOVE in this way!
 ~ Ms. Bachinski, Mrs. Cassidy, & Mrs. McMillan