Back to all posts
Posted on
Global Watch Party!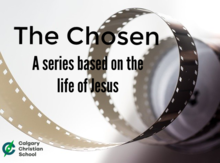 Looking for GOOD THINGS to WATCH? CCS suggests THE CHOSEN*, an 8 episode series based on the life of Jesus. The YouTube hosted series starts Sunday night, March 29 - Click The Chosen on YouTube for a preview and more details on how to view the full series  - Click here to watch an introduction to the series by its director.  

Why choose The Chosen*? This could be a great way to launch meaningful discussions with your family.You could use this series to:
- Talk as a family about Jesus, faith, and stories in the Bible in your own home.
- Watch episodes and then use Skype, Zoom or other video conferencing software to connect with others about each episode.
- Join other CCS students, staff, and parents on Google Meet after each episode to discuss open-ended questions like:
1. What stood out to you in this episode and why?
2. What questions do you have about this episode?
3. Sometimes, watching shows like this raises other questions, is there anything else you would like to discuss?*If you are interested in this option sign up by clicking Google Meet (groups of approx 10 people).  
   - Or develop your own questions. Here is a link for some ideas. 
If you prefer to watch without the pre and post show content, download The Chosen app on your smartphone.
We hope you will take this opportunity to continue great conversations about Jesus and your faith at home.

* NOTE: Some content may be intense for younger children. CCS is not endorsing everything in this series or the people involved in creating it. Some literary license has been taken in the telling of these stories. We are simply highlighting an opportunity for our diverse community to have meaningful conversations about Jesus and faith.