Back to all posts
Posted on
Fresh Davison Orchard Apples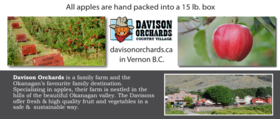 Order deadline is October 1, with pickup on October 14 (details to follow) at the Secondary Campus!
Davison Orchards is a family farm and the Okanagan's favourite family destination. Specializing in apples, their farm is nestled in the hills of the beautiful Okanagan valley. The Davisons offer fresh & high quality fruit and vegetables in a safe & sustainable way.
Order here using your School Cash Account, which is easy to set up if you don't have one already.  An order form is available here on our fundraising tab.   
**please note: a separate order is required for each different type of apple**