Back to all posts
Posted on
School Council (Virtual) Meetings are booked!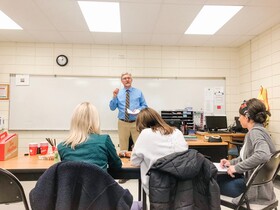 School Council is a parent led group that supports CCS. Regular meetings include parents as well as CCS Principals, CSCE (society) representatives, Teacher representatives to ensure active communication and collaboration. Our Palliser School Division Trustee often participates as well.
All CCS parents are part of School Council, as mandated by Alberta Education, and are most welcome.  A zoom meeting link will be included in the parent email of the week of the meeting - hope to "see" you there!
Elementary meeting, Wednesday October 14 @6:30pm, send questions to: mzuk@hotmail.com
Secondary meeting, Tuesday October 20 @7:30pm, send questions to: mpoweredplanning@shaw.ca