Back to all posts
Posted on
Action not just listening!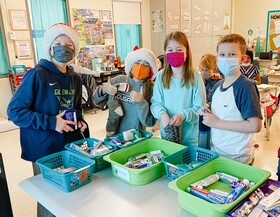 Grade 5 students had a virtual meeting with a community co-ordinator at the Mustard Seed to learn about homelessness in our city. 
They then set to work to serve a real need affecting real people in our city.  The students collected items to fill Christmas stockings for the Mustard Seed to hand out to homeless people in Calgary. These stockings, which also included Christmas cards of encouragement, were delivered just in time for Christmas!  
At CCS, we celebrate learning to be Community Builders, Earth Keepers, and more! Take a look HERE for more sharing.