Back to all posts
Posted on
Apples for sale!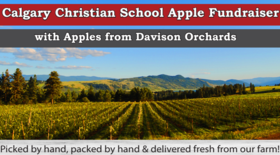 Delicious apples from Davison Orchards in Vernon, BC  (davisonorchards.ca) are now available for ordering online through our Hotlunch program, linked here. Proceeds from the sales will go to fund student engagement activities at the Secondary Campus. 
Deadline is Oct 1 and you can pick up on Oct 13.  Thanks for your support! 
Davison Honeycrisp $40
Ambrosia $30
Royal Gala $30
Okanagan Blend $32
Handpicked into a 15lb box!
Order through the Hotlunch Fundraising program, linked here.