Back to all posts
Posted on
CCS Parents - be a learner too!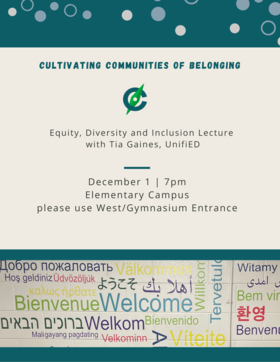 We're excited to host Tia Gaines, from UnifiEd in Philadelphia. The Parent Lecture for how to cultivate communities of belonging will take place on Thursday, December 1 at 7pm, Elementary Campus.  Please RSVP via SignUp Genius or the link shared in the Weekly Tuesday Communication!
Tia Gaines is the Director of Educational Strategies at UnifiEd: A Center for Hope and Unity. She is a writer and conference speaker who devotes herself to advocating for diversity, unity, and belonging within Christian education as well as innovation and technology. She has been in education for over 20 years, including time teaching internationally, online and in both suburban and urban contexts. Tia has created curriculum and resource material on the topic of cultural humility, as well as intercultural competency, dialogue, and reflection with a specific love and passion for urban education, community engagement, and school partnerships. She currently serves on the Board of Trustees for the Association of Christian Schools International and serves as a Flourishing Schools Institute faculty member. Tia and her husband Joel reside in Philadelphia and have four children.