Back to all posts
Posted on
Everything you need to know!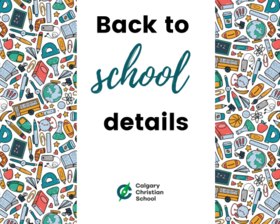 Dates, Supply lists ....
Thursday, August 31 Gr7 Student and Parent Gathering; Dessert and Coffee Night (6-7:30pm)
Friday, September 1 (10:30am or 11:15 am, please RSVP) - Secondary New student and family tours, meet the Principal 
Friday, September  1- Elementary Teacher Welcome Letter to be emailed
Tuesday, September 5 - All Secondary students (Gr7-12) first day of school, Chapel at 9am
Tuesday/Wednesday, September 5 & 6 - ES Staggered entry on the first two days (details coming)
GR12's go to FRONTIER LODGE - September 6-8, details are HERE.
Monday, September 11- Secondary Meet the Teacher evening 6:30-8:30pm 
Wednesday, September 13 ES Back-to-School family  picnic, rainout date Wednesday, September 20. 
Gr9's go to Circle Square Ranch - September 20-22, details will be shared at the start of school.
**
Supply Lists are posted HERE and on our website under the parent tab for your convenience.