Back to all posts
Posted on
Floor Hockey Tournament a success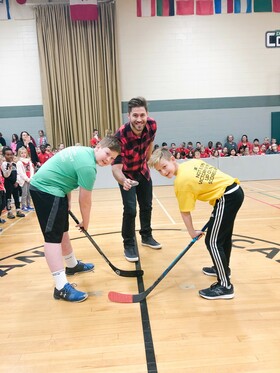 Thursday, March 7 our Elementary Campus hosted our annual floor hockey tournament supporting WinSport and their Newcomer program. 6 teams raised over $11,000 and competed for the banner, students purchased treats from the concession and everyone cheered and had an amazing day!
Special thank you to Olympian silver medalist, Tristan Walker who inspired us and gave us these takeaways and wowed us with a cool push-up!
1.  Talk to someone
2. Make sure your goals are within your control. Take charge of what you can do and let the rest go.     Tristan changed his goal from winning gold to doing everything he could do to be ready for that possibility. 
3.  You will always be the most successful when you enjoy doing what you're doing.  
A shout out to our amazing partners in support:
The Calgary Hitmen, alumni Jordan Parker and Matthew Bonk who did break out sessions for our athletes. Thanks to Glamorgan Bakery who graciously supplied our concession with donuts, to Booster-Juice for smoothies for the athletes, and to Inglewood Pizza for the most delicious pasta lunch.  We are grateful for you!
Thanks to our parents, staff and helpful volunteers - we had a great day because of you!