Back to all posts
Posted on
We invite you to join us.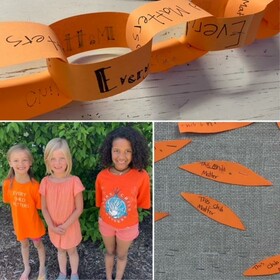 In solidarity with the Tk'emlúps te Secwépemc First Nation, our indigenous brothers and sisters throughout Canada, and other Christian school communities, CCS is encouraging students and staff to wear orange shirts this week. We will also display our flags at half mast until June 7. 
Throughout the school year, we're given opportunities to reflect upon and learn more about the First Nations, Metis, and Inuit peoples of Canada. It is when we get to know their stories, continue to grow in our understanding, and participate actively in the process of truth, can there be reconciliation.
The recent discovery of 215 bodies of First Nations children at a former Kamloops residential school makes this moment all the more critical and poignant. As we learn to shape God's world, we are the hands, heart, face and voice of Christ in a broken and hurting world. This means we are called to prayer and action as we come to terms with historic injustices, and seek healing and wholeness for all people.
….mourn with those who mourn. - Romans 12:15
Do nothing out of selfish ambition or vain conceit. Rather, in humility value others above yourselves, not looking to your own interests but each of you to the interests of the others.  - Philippians 2: 3 -4  CCS 2020/21 Theme Verse
From our Executive Director, Ken DeWyn and the CCS Administration.