Back to all posts
Posted on
When Little Is Big - with our very own!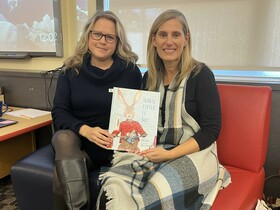 CCS welcome author, Cheri Groot, and illustrator, Janelle Reitsma, to our library to share about their book "When Little is Big"!  You may recognize these faces as they are also teachers at Calgary Christian School.
Students had the opportunity to hear the story read by the author as part of Literacy Week activities.  They were able to ask questions about making a book; the process of creating and publishing as well as how to illustrate.  Students also learned how to make characters come alive with a tutorial from Mrs. Reitsma. To have an "insiders view" into the process was a real treat and was very engaging for all who attended. A big thank you to our special guests for their time and attention to details.
If you would like to purchase your own copy of "When Little is Big" for $20, please email: whenlittleisbigbook@gmail.com.