Parent Teacher Interviews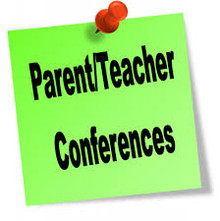 Parent Teacher Conferences for Grades 7-12
Virtual Parent-Teacher conferences will be held on the evening of October 29, from 4 - 8pm, and for Grades 7-9 only - October 30 from 9:00am - 2:00pm.  We look forward to meeting with you to discuss your child's learning and progress thus far.  Open communication between parents and teachers is crucial to the success of our students.  Two possible ways to do this are:
If you feel you have a good understanding of your child's progress thus far but still want to convey your support, you can send an email to the teacher. Due to the time constraints of online meetings, we have limited capacity for appointments - a meeting is not required for each teacher. Parent/teacher interviews is just one method for communicating with your child's teacher.  Google classroom, email, and powerschool are other ways to connect.
If you want to discuss things further, please book an appointment for a parent-teacher conference. See below for instructions.
The link for the Conference Manager is:  https://ccss.schoolsoft.ca   (DO NOT include "www")
A Parent Account is required to use the Conference Manager. However, you only need to go through the registration process the first time you use the system at CCS Secondary. Click REGISTER NOW, once you've accessed their webpage, to begin. 
Step 1 – Conference Manager opens to Parents on October 24, 2020 at 9am.  (Conference Manager closes on October 28, at 11:30pm.
Date for Conferences: October 29 4:00 - 8:00pm
October 30 9:00am - 2:00pm (Grade 7-9 Only)
Step 2 – Book your Parent-Teacher Interviews
Select the individual teacher with whom you want to book interviews. You will see each teacher's schedule. After booking your appointments you can print off your schedule. You will also receive an email confirming your bookings. You can log into the system at any time to view your bookings, print, cancel or re-schedule appointments.
Can't remember your password?
If you already have a Parent Account, click on the link above, select "Forgot your password" and enter the email address you used to register in the system. You will then receive an email containing instructions for resetting your password. If you do not receive an email, you might have entered an email address the system does not recognize. Please also add appointments@schoolsoft.ca to your address book in your computer mail. This will override any spam filters that might be blocking the email. If the problem persists, please contact the office and ask them to access your Parent Account, confirm your email address and reset your password.
Teacher Availability and Conference Structure
Conferences will be 9 minutes in length which allows for a one minute transition between conferences. This allows parents to leave one zoom session and connect to another. Please keep your interviews within the 9 minutes allotted.  Details to receive the zoom link will be included in Tuesday's email.
Please note the following:
Mr. Barthel will be available on October 29 only
Mrs. Vienneau will be available on October 29 only
Mrs. Foster will be available on October 29 only

Career Counselor & Off Campus Programs

Mrs. Hewitt will be available on October 29 only
 If you have any questions or need assistance, please feel free to contact the school at (403) 242-2896 Ext 2.
Jadan Barthel Dayle Vienneau
CCSS Principal CCSS Assistant Principal