School Re-Entry Plan
Sept 29 Elementary Video
What does school look like now? Here's a little peek! 
September 15 Parent Email
September 10 CoVid-19 Proceedures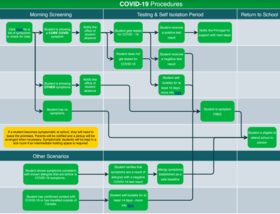 Here's a helpful chart with procedures for attending classes regarding CoVid-19, view below.  
September 8 Parent Email
Copy of Parent Email, linked here
ZOOM CALLS on Monday, September 14 
Elementary @6:30pm, submit Q's for admin HERE
Secondary @7:30pm, submit Q's for admin HERE
September 2 Middle School Memo
Message from Mrs. Vienneau, Vice-Principal
Welcome back! Hope you enjoyed your first day back at school. We are so excited to have students back in the building again. Listed below are a few of the most commonly asked questions. If you have any other questions, please don't hesitate to ask a teacher or Mrs. Vienneau and we can help you out. Take a minute to relax, take a deep breath, and smile. We got this! Have an amazing year :)
Here's some answers to the most recent frequently asked questions from parents and students!  Click Here for recent FAQ's 
Welcome Back! Have a great year!
September 1 DAY ONE
A message from our Executive Director:
Dear CCS Families,
It's the day before we resume classroom activities at Calgary Christian School, and there's excitement in the air. Students look forward to being reunited with their friends and teachers; teachers look forward to interacting in real time and space with their students; parents are eager to resume some schedule of normalcy - even if it is twinged with a little concern about the unknown.
We get it. School is a highly calculated experiment of necessity. And we're working together to support our vision for a sustainable, positive school experience. 
As we enter these next few days of orientation into a new learning environment, I'd just like to remind our community of a few things: 
We are in this together. The success of our school - that is, its ability to operate safely and effectively within the context of pandemic restrictions - rests on everyone connected to CCS doing their part. Internally, we will be following specific practices to safeguard the health of students and staff. Externally, we must also accept that staff and families support the school environment by being vigilant in their personal health and hygiene practices when away from school.
We remain gracious: There are a lot of new things to get used to at school, which means there is a learning curve for everyone. Being patient and extending grace as everyone adapts to new activities is essential to our social and emotional wellbeing as a community; we learn and work better when not taxed by anxiety, anger, or frustration. So, please anticipate needing more time to get things done the first few times - whether that be navigating a parking lot, responding to required forms, or wrestling with technology that isn't working well. 
We are growing - better and stronger:  The challenges of operating as a school community under pandemic restrictions have forced us to act upon what we believe to be most important. It has strengthened our resolve to our distinctive brand of Christian education. And, necessity being the mother of invention, it has forced us to innovate and acquire new skills to ensure learning is engaging and effective regardless of physical context. These major exercises strengthen our understanding of who we are, clarify our purpose, and better equip us for a future that is dynamic and ever-changing. Through it all we remain steadfast in our commitment to provide learning that is Christ-centered, relational, relevant, and rigorous.
As we navigate this season of activity together, I ask that you continue to lift our school community up in prayer. Thank God for the gift of us being together as a community facing this time, place and challenge together (God's providential design). Thank Him for His  abundant provisions in our time of need. Ask that He blanket us with His care and bless us with continued health. And ask that we be moved by His Spirit to continue serving him at CCS with wisdom, courage, and grace. 
Blessings, 
Ken DeWyn
Executive Director
Copy of Sept 1 Parent Email, linked here
August 28 Welcome Letters
August 26 Info for Parents
Kindergarten Orientation Zoom Mtng
From August 25, please note: forward to 12 minute, 11 second for the speaking to begin.
Aug 17 Middle School Update
Hello CCS Families!
I hope this update finds all of you keeping well and in good spirits. As you know, an email was sent home earlier this month with information and a survey about school re-entry. Thank you to all who have completed it. If you have not completed it yet, please take a moment to do so. We appreciate your feedback and I hope to provide answers to some of the questions that came up. If you have any other questions or concerns, please do not hesitate to email me for clarification!
Thank you for your flexibility and patience as we navigate through this new school year.
Dayle Vienneau
Vice Principal
What will junior high sports look like?
Sports, as with everything, will definitely have a different look this year. At this time, the ISAA has announced that there will be no games/tournaments being played between schools. We are currently looking into the safety measures required for us to be able to practice/play within the cohorts at our own school (ie: Grade 8 plays against Grade 8). Stay tuned for more information as we learn more. 
Why are Grade 9 classes no longer following the semester system?
In previous years, our Grade 9 core classes ran on the semester system in an effort to reduce anxiety and pressure for our students (ie: they would write two PATs each semester instead of four at the end of the year). The semester system allows students to focus on only two core courses at a time, however, the pace of the course is much quicker. As we enter into a year where students may be transitioning between being in-class and working online or may not feel well, we wanted to ensure that they would not quickly fall behind if they miss a class. Fortunately, students will only be writing two PATs this year (ELA and Math) as per Alberta Education, so the end of the year will continue to look similar to how it usually does. Our teachers are confident that full-year courses will offer the pace, the time, and the learning opportunities that will help our students review and move forward with their learning in the best way this year.  
Will students have access to in-class work when they are required to isolate at home due to illness? Will they be able to remain caught up on their learning?
CCS will be offering both remote and in-class learning this year. Both formats will be taught by the same teacher which will allow them to work at the same pace. Google classroom and our CCS Learn webpage will continue to be used by our teachers. Students will be able to switch between the two formats if they are unable to be in the school physically. This will allow them to continue to participate and remain caught up on their learning. 
Will there be any live online learning options available for students who decide to participate in remote learning?
Yes, our core teachers (math, LA, science, social) will be providing two live lessons (alongside check ins) throughout each week. Students will receive a schedule as to when these classes will take place.
Will there be a need for personal computers at school to reduce the risk of sharing technology?
Using a personal computer at school to reduce sharing will definitely be an asset, but is not required. We have a class set of chromebooks within each MS classroom and will be assigning each student to a chromebook. These will be wiped down/sanitized regularly and kept in the classroom. If you child has a personal computer and would rather use that, they are welcome to bring it each day.
Will there be flexibility for students to remain home when the risk is higher and attend school when it is lower?
By participating in the remote learning program through CCS, there is more flexibility to move between in-person learning and online learning. We are asking for at least one week's notice for students to transition from one to the other (with the exception of illness or the need to self-isolate, of course) so that the teacher can help make the transition as smooth as possible.
What happens if a child or staff member tests positive for Covid-19?
Should this situation arise, our admin team will immediately be contacting Palliser and AHS. We will be following their guidance with regards to contact tracing and informing the individuals who will also be required to self-isolate. 
If cohorts remain in the same class for the duration of morning/afternoon classes, will there be opportunities to stretch/move around the room between classes?
Yes! We fully understand the need for stretching/brain breaks/body breaks within the classroom (teachers need them too!). We are currently brainstorming different ways to safely integrate elements of movement and socializing with peers throughout the morning and afternoon. Teachers also take student requests for friends into account when creating homeroom lists. We try to ensure that each student has at least one person from their list of friends in their homeroom. They will also have opportunities to socialize with friends in other classes of the same grade during lunch recess (outside while following social distancing protocols).
What are the class sizes?
Grade 7 - 4 cohorts of approximately 20-21 students
Grade 8 - 3 cohorts of approximately 26-27 students
Grade 9 - 3 cohorts of approximately 23-24 students 
Will my child be required to wear a mask in the classroom?
As per our government mandate, students will be required to wear masks in any common areas, hallways, bathrooms, and any classroom where physical distancing is not possible. We are working hard to create opportunities where it will be safe for students to work in their desks without a mask. Unfortunately, we do have a few classroom situations where this may not be possible and masks will be required. 
How will lunch time and lockers be handled to accommodate physical distancing/cohort groups?
Our schedule has a new look to it this year. Instead of a 6 block schedule, we will be working with a 7 block schedule. This new format will allow us to stagger lunch breaks for each grade. We also have a schedule in place of which grades will be going outside and which grades will be eating so that there are fewer students in hallways, outside, eating, etc. at one time.
Unfortunately, we will not be able to offer the use of lockers at this time. Students will keep their backpacks and coats with them at their desk in their homeroom classroom.
Will extra curricular classes be offered?
Yes. Students will participate in options, Bible, and health alongside their core classes. Our option classes will have a different look to them as we are required to maintain our cohort structure. Each month, each cohort/class will have a new option teacher and will focus on a new class (ie: art, photography, foods). These classes will consist of online and in-person components allowing for students to choose to stay at school and work on them or go home at lunch (on certain days) to work on them there. More information will be provided on the set up of the schedules for each class.
Will CCS consider offering 2-3 days in school and 2-3 days online in an effort to maintain smaller class sizes and allow for physical distancing?
Currently, we are unable to offer this option as the government has mandated the province to be in Scenario 1 - near normal re-entry with all students returning every day. In an effort to allow some room for movement, we are creating a schedule where MS students will have the opportunity to go home at lunch three days per week and work on their elective/option courses online. If students are unable to go home, they will remain with their cohort to work on their elective/option courses online in the classroom (with support and lessons planned by their teacher). This will allow for the opportunity for fewer students to be in the building (allowing for more physical distancing to occur) and for students who leave to have the ability to work in a new space. Should the government mandate that we move into Scenario 2, CCS has a plan in place to make that as smooth a transition as possible.
August 7 Elementary Parent Student Handbook
Elementary Parent and Student Handbook Aug2020
Dear Parents,
Just as Covid 19 has altered many aspects of our work and home lives, so it has caused many changes to be made to the day to day aspects of school at the elementary campus for the 2020-21 school year.  
A few items to note:  
We are hosting a staggered entry for students in grade 1-6 classes on September 2 and 3, with all students attending on Friday, September 4.  Children in Kindergarten already have a slightly longer staggered entry process.  This is to more effectively teach the children about the many changes to the different aspects of school this year (many of these changes are detailed in the pages below).  Students in the first half of respective alphabetical (by last name) grade 1-6 class lists will attend Wednesday, September 2, and in the second half on Thursday, September 3.  K-6 teacher welcome letters sent out to families on August 24 will also specify which students will attend on which day.  
In order to accommodate changes in scheduling to allow for increased connection with remote learners, we will have a noon dismissal on Fridays. 
Please read through this document, including the options at the bottom for In-school learning vs. Remote-learning and then complete THIS SURVEY so we can plan accordingly.
We are starting the school year in Scenario 1, but may be required by AHS (Alberta Health Services) to switch to Scenario 2 or even 3 at some point or points during the school year.  Below are pertinent documents and changes specific to the school year under Scenario 1.  The documents are applicable to all schools in Alberta; they have served as the templates for how changes will be implemented at CCES.  How changes are implemented will vary somewhat from school to school in Alberta.  We ask that parents exercise patience and understanding as, guided by AHS and Alberta Education, we navigate the changes required in this truly unprecedented school year.   
Thank you, 
Mike Thiesen 
CCES Principal
Monique Wagner
CCES Vice Principal
August 7 Secondary w/Documents
CCSS Students & Parents,
We wanted to provide an update in light of the recent announcements made concerning our return to school. The government of Alberta has provided guidance regarding a September startup to the next school year. With this document in mind, the Palliser School Division has also outlined its school re-entry plan. These publications will serve as the foundation of our plan moving forward and include expectations and procedures that we need to adhere to. 
We understand that there is a wide range of research that defends a range of personal responses to the current re-entry plan. Rather than expending our collective energy further deliberating it's flaws or merits, we invite you to come alongside us to help create the best possible environment that fosters learning for all students. This year's school verse, Philippians 2:3-4, establishes a meaningful way for us to all work together:
"In humility value others above yourselves, not looking to your own interests, but each of you to the interests of others." (NIV)
As we consider the interest of all of our families and our belief in cultivating community, we will continue to offer a remote learning option alongside in-person schooling. This approach will provide a comfortable starting place for our students and families as they consider their unique context and what would work best for them. It also allows for easier transitions into and out of the classroom as we anticipate movement due to self isolation protocols. In order to make your decision, please review these preliminary documents:
Middle School Re-Entry Options
After reviewing the documents, please fill in this survey by August 12 so that we can begin the process of creating class lists and schedules.  We will also be using the survey information and the questions/comments shared as we work towards more specific protocols and procedures that will be new in September. 
We are excited about this upcoming school year. In an effort to provide space for our students to learn about the new protocols, we will adopt a staggered entry as follows (as of August 7):
September 2 - Grade 7 & 10 students only  (updated 8.26 to be Gr 7, 10, 12)
September 3 - Grade 8,9,11, & 12 students only (updated 8.26 to be Gr8, 11,12)
September 4 - all students, noon dismissal (updated 8.26 to be Gr9)
We look forward to sharing more specific re-entry plans and high school student timetables later this month.
Enjoy the rest of your summer!
Jadan Barthel
Dayle Vienneau