CoVid Response
Secondary Update - Jan 8/21
Welcome back! We have noticed a number of times, during this strange year, that the only constant we have is change. The month of January will include just that… change. When the government announced that diploma exams are now optional, that opened the door for other changes to be implemented as well. Please read the information below for more details regarding how the end to Semester 1 will look this year. If you have any questions, please feel free to reach out. 
Thanks,
Dayle Vienneau, Acting Principal
Grades 7-9
What will our schedule look like?
Grade 7-9 students will essentially pick up where we left off back in November. We will return to our original class schedules that include options, Bible, PE, etc. If you will be continuing with remote learning, please refer to this document for more detailed information and schedules that you will be following. 
Grade 7 Option Rotation:
| | |
| --- | --- |
| January 12 - 21 | January 26 - February 25 |
| 7O - shop | 7O - foods |
| 7S - art | 7S - shop |
| 7ST - Spanish | 7ST - art |
| 7V - foods | 7V - Spanish |
Grade 8/9 Option Rotation:
| | | |
| --- | --- | --- |
| January 11 - 14 | January 18 - February 3 | February 4 - February 25 |
| 8A - art | 8A - shop | 8A - foods |
| 8C - Life Skills (part 2) | 8C - art | 8C - shop |
| 8H - music | 8H - Life Skills (part 2) | 8H - art |
| 9C - Life Skills (part 1) | 9C - music | 9C - Life Skills (part 2) |
| 9H - foods | 9H - Life Skills (part 1) | 9H - music |
| 9M - shop | 9M - foods | 9M -Life Skills (part 1) |
Can we still work from home two afternoons each week?
Yes, we will continue to offer the opportunity for students to work from home two afternoons per week. Grade 7 & 9 students will have the opportunity to work from home on Monday/Wednesdays and Grade 8 students have the opportunity to work from home on Tuesday/Thursdays. Students are still expected to complete the work for classes they miss. There will be some elements of each course that will look different depending on whether you are in the classroom or not. 
Please complete this form to give permission for your child to leave school at lunch and work from home. 
Do we still have off-campus privileges?
Grade 8&9 students will continue to have off-campus privileges. Students are reminded that they are to follow all AHS health guidelines while they are away. Masks and sanitizing hands upon re-entry are expected when they return to school. 
Do we have school on January 28 and 29?
January 28 and 29 are PD days with no school for students in Grades 7-12. These days allow for a smooth transition into Semester 2 which begins on February 1, 2021. Report Cards will be emailed home on February 5, 2021. 
Reminder!
Please remember to send forks/spoons with your child in their lunch if they need them. We are not able to provide extras at this time. Microwaves and vending machines are also not available at this time.
Grades 10-12
Are diploma exams optional? What do I need to know if I choose to write my diploma exams?
Yes, writing the diploma exam is optional for this semester. If you choose to write the diploma, please make sure you have informed the school through this form so we can have all the materials prepared for you. 
The diploma exam is worth 30% of your final grade and will either increase or decrease your mark depending on how you do. Universities will be looking at final grades for program admittance. They will not be looking at whether or not that grade includes a diploma exam. 
Will I write a final exam if I opt out of the diploma exam?
This will vary depending on the course. There are two possible scenarios that teachers will be choosing from:
Option A: The semester ends when all coursework is completed. In this case, you would receive your final grade based on the work done in class. 
Option B: A final exam or final project is required if you are not writing the diploma. The final exam will be worth up to 20% of your final grade for the course. Your mark may increase or stay the same as a result of writing the exam. It will not decrease. 
When is the last day of classes for Grades 10-12 and what is Flex Week?
The last day of classes for Grade 10-12 students will be Friday, January 22, 2021. The following week, January 25-29, is our Flex Week. During this time, students may be asked to come in if they need to make up any tests or assignments. It is also a time for teachers to do any final check-ins with students. Semester 2 will begin Monday, February 1, 2021. 
When does Semester 2 start? Where do I find my schedule?
Semester 2 begins on Monday, February 2, 2021. Your schedule can be found in PowerSchool. To access your schedule, please use the desktop version of PowerSchool (look for the week of February 1) rather than the mobile platform as the mobile platform only shows your schedule one week at a time. You will find the link to PowerSchool here on our school website. 
Who do I contact if I want to request any changes to my schedule?
Please send an email to Mrs. Vienneau ( dayle.vienneau@pallisersd.ab.ca )to request any changes or to schedule a time to meet.
Elementary Parent Updated - December 10
CCES families
We wanted to give you some information about what school will look like for our K-6 families from January 4-8, 2021, utilizing a Question / Answer format.  
Will it be like last Spring, or like the CCS Secondary campus is doing right now?  
No.  There will not be any synchronous learning like has been taking place at CCSS; so grade level CCES teachers won't, for example, be teaching a Social Studies class at 9:15 a.m. on Tuesday, with all the students in the class joined in via a Google Meet. 
There will actually be no class-wide Google Meets for instruction during the week at all.  As opposed to last Spring, the work will be print-based during the week, in order to avoid excessive screen time for our elementary students.
Photocopied work packages will be sent home with students the week of Dec. 14-17.  Parents are asked to keep close track of them over the Christmas Break, and then bring them out on Monday, January 4, 2021, for the students to work on.  The four core courses of Language Arts, Math, Social Studies and Science will be the focus of these print media activities.  See below regarding PE, Bible and Music.  
The teachers will indicate for the print media activities what work should be done on Monday, Tuesday, and so on, in order to provide direction to students and parents regarding what work needs to be done on each day of the week.  Of course students may 'work ahead' if they wish.  
If students or parents have questions, Grade 1-6 grade level teachers will have Office Hours every day, twice a day (Friday afternoon excepted), from 10:00-11:00 a.m., and from 1:00-2:00 p.m.  Parents and students are welcome to contact the grade level teachers by accessing the Google Meet links that will have been shared with families by the teachers via Seesaw (K-2) and Google Classroom (3-6).  Kindergarten teachers will have the same Office Hours on the Monday/Wednesday and Tuesday/Thursday of that week, correlating to their regular weekly class days (there will be no Kindergarten Office Hours on the Friday).   
For those students who are not here during the week of December 14-17 (e.g., if they are self-isolating), packages will be able to be picked up from school on January 4, 2021. 
My children are part of CCES 100% online learning; how does this affect them?  
For those students who have Mrs. Pagenkopf (Kindergarten), Mrs. Ermter (Grade 1, 2) or Mrs. Gillard (Grade 3,4, 6), online learning will continue with the established routines.  For these students the week of January 4-8 will be just like the previous school weeks this year.
Will we need to have a device in our home that our child uses?  
Yes, a device is needed, but it may well be used only occasionally during the week.   
Because the work will be print-based for this week, it could well be that your child does not need to contact his/her teacher.  If that is the case, then s/he may hardly use a device at all during the week.  
A device will be needed to check grade level PE, Bible and Music activities for the week, which will also be posted on Seesaw for K-2 and Google Classroom for 3-6.  
The recent survey sent out indicated that 16 CCES families will need a school-provided chromebook in order to have a device for the week of Jan. 4-8, 2021.  Those 16 families need to first fill out a Chromebook User Agreement using School Cash (to sign in, login here), if they have not done so already.  After doing so they should either phone our Administrative Assistant Mrs. Bettin at school (403-242-2896), or email her at sheila.bettin@pallisersd.ab.ca in order to make arrangements to pick up a device during the school days of December 16 or 17.  
What if my child is sick and cannot work on the provided print activities on a given day; do we need to do anything?
Yes.  Because these are still school days, but just ones in which students work from home, this would be like any regular absence from school.  Consequently, if you need to report an absence, there are a number of ways to do so.  You could contact the elementary school office by emailing ccesoffice@pallisersd.ab.ca and indicating the absence in the body of the email.  Or you could go to the Calgary Christian School website, select Quick Links, and then the Report a Late or Absence link.  Or you could simply call the school at 403-242-2896 and let the Administrative Assistant know.  
My child has been receiving support services at school; will there be any assistance for him/her during that week?    
Yes.  Those students who need support services have been identified by their classroom teachers, and their names submitted to Ms. Visser, our Learning Support Teacher.  They have in turn been assigned to various staff members (Teachers and Educational Assistants), all of whom will be in the school building working during that week.  
The families of the designated students will be contacted by their Homeroom teachers on Wednesday and Thursday, December 16 and 17, to indicate the dates and times staff members will connect with the students via Google Meets during this week.  Especially for children in Div. 1, the parents will need to help facilitate these virtual meetings.  
In these cases, the families will need a device at home that can be used regularly to connect with the school.
The staff members working with the students will not always be the Home Room teacher; for example, Mr. Heppner, our PE teacher, may virtually meet with a grade six student to assist him, or an Educational Assistant may meet with a grade one student to assist her.  Who specifically will be working with your child will be indicated in the December 16-17 communication from the Home Room teacher.  
My child has scheduled appointments with the school counsellor; will those continue?   
Yes.  The Family School Liaison Counsellor (FSLC) will continue to meet virtually with elementary campus students during that week. Once again, a device would be needed for these virtual meetings.  
What if something comes up during the week that is not addressed above?  
Administration, teachers and support staff will all be working in the school during the week, so parents can phone the school and we will do our best to assist families with any unforeseen educational situations.  :-)  
As an elementary staff we are very, very grateful that we have been able to continue to have the children learn here in the building, and look forward to having them in the building again after the January 4-8 week of Home Learning.  
On another note, this will be a Christmas Break unlike any other in our lifetimes, but my prayer for our families is still that the joy of the Incarnation, so very evident in Luke's account of Jesus' birth, would fill our lives and homes at this time.  I know that the following verse from Nehemiah does not refer to Jesus' birth, but I think it nonetheless applies to us at Christmas this year:  "Go and enjoy choice food and sweet drinks, and send some to those who have nothing prepared. This day is holy to our Lord. Do not grieve, for the joy of the Lord is your strength." Nehemiah 8:10
Mike Thiesen           Monique Wagner
Principal, CCES        Vice-Principal, CCES
Secondary Continuous Learning Nov 27
Parents and Students,
As we move back into remote learning we wanted to provide some further clarity around what that means here at the secondary school. As it stands, students will be working at home for all scheduled school days between November 30, 2020 and January 11, 2021. 
In grades 7-9, we are maintaining the level of core instruction to ensure that students are supported on their trajectory moving forward from grade to grade. As a result, core classes will continue with the same amount of teacher instruction. All other grade 7-9 courses will be paused. They will resume when students return in January. This creates the necessary space for students to manage workload at home and it also allows for increased touchpoints with a teacher as we will have  more staff members available to support students online. We know that students learn by thinking. Observing and facilitating this thinking while online requires innovation and adding adults to the virtual class allows us to create the smaller groups (through supervised breakout rooms) required for students to engage and feel willing to talk about their learning. Student schedules have been handed out and can be found in the MS letter linked below.
From Monday to Thursday, grade 7-9 students should engage in physical activity by tuning into our daily PE activity. We know that physical activity is crucial for mental health and overall wellbeing so students should tune in to our synchronous PE sessions daily at 2:40pm (M-Th)
In addition, grade 7-9 students will be able to engage in other areas of interest by checking out the CCSLearn website. There will be challenges and opportunities posted that allow for students to continue engaging in things like Bible, Art & Foods.
In grades 10-12, students will continue with their scheduled classes. Students should reach out to their teachers when they require additional support and guidance. For general math help, email Mr. Barthel to set up an appointment.
Faith integration will continue through our core courses across all grade levels but there will also be opportunities for our students to take their faith beyond the classroom. Check out the CCSLearn website for ways that you can engage alongside the rest of our community!
Division specific information is linked below, please take a moment to read through as there are important details listed:
MS Remote Learning Information [7-9]
HS Remote Learning Information [10-12]

Please don't hesitate to reach out with any questions you may have. We will be evaluating as we go to ensure that students have the best chance for success so your insight is valuable.
Jadan Barthel - Principal
Dayle Vienneau - Vice Principal
Sept 29 Elementary Video
What does school look like now? Here's a little peek! 
CoVid-19 Procedures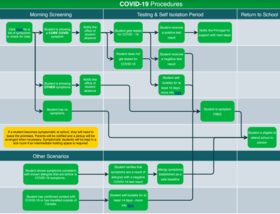 Here's a helpful chart with procedures for attending classes regarding CoVid-19, view below.