Accessibility Fund
Thank you for supporting our Accessibility Fund!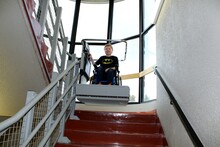 To date, we've received pledges of $55,152 towards project costs budgeted at $150,000.00
The CCS Accessibility Fund is a newly established fund to support projects that improve physical accessibility to Calgary Christian School's facilities. Projects that have been completed include the installation of a wheelchair lift, two additional accessible washrooms, entrance door actuators, and other door hardware at the school's secondary campus. These improvements will not only eliminate old barriers to our high school, but also open new opportunities to a  community growing in size and diversity.
Thank you for your support!
Ken DeWyn
Executive Director
Calgary Society for Christian Education
403.242.2896 email: kdewyn@calgarychristianschool.com