Quebec Trip
Flames Fundraiser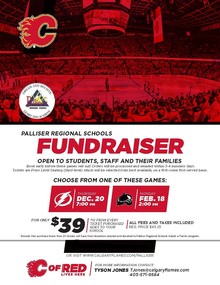 Another way to support of our Grade 8 Quebec trip is by purchasing Flames tickets!
Games to choose from: 
Thursday, Dec 20 , 7pm vs. Tampa Bay Lightning 
Monday, Feb 18, 2 pm vs Colorado Avalanche ( Family Day Game) 
$39 per ticket ($45.25 all fees included) with $10 going to Quebec Trip Students
When ordering through this link please list Calgary Christian Secondary School as the school. 
You can choose from either game (or both!) and tickets will be emailed to you soon after your purchase.