Back to all posts
Posted on
Alumni Highlight - Delynne Spencer (Class '83)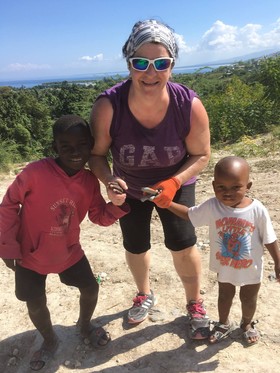 In honor of the 35 years since the Class of 1983 graduated, we're shining the spotlight on the lovely Delynne Spencer. Here is a brief update!
"I am single Mom of two adult children - Erin, 26 and Cole, 24. I have a grandson Holden, who is almost 2. And this fall I will be blessed with a new daughter-in-law Kallyn, when Cole gets married! I work at the Medicine Hat Regional Hospital in Diagnostic Imaging as Admin Support/Booking Clerk. I have been there for 22 years. My hobbies include slo-pitch, dragon-boating, kayaking and working out at the gym, plus spending time with my Grandson, of course!" 
A huge part of Delynne's life is her short-term mission work with Haiti Arise (https://www.haitiarise.org/).  "I first was introduced to Haiti through my church, The Link Christian Fellowship, in 2010 when we were going to send out the first team. But then the earthquake hit in January of 2010 and due to security reasons, only a team of men were allowed to go to help rebuild. My first trip to Haiti was in 2011 and I have been back every year since to serve there with our church team! This past trip was in February-March 2018, and it was one of my favorite trips of all! We built 6 homes in one of the poorest areas of Petit Paradis in Grand Goave. Seeing the difference we can make when we raise funds and work alongside the Haitians to give them a new home, new hope and a future, was amazing and rewarding! These families went from living in 8x8 shacks of metal, ripped tarps and wood....to a new 12x12 cinder block home!"
This is inspiring, Delynne. Thanks for being a wonderful example of ways we can serve and make a difference.
When asked to share some thoughts on her years at CCS, Delynne says, "Attending Calgary Christian from 1978-1983 had a huge influence on my life, building a foundation that led me to Bible School and now to the short term missions field. I am so thankful for the 5 years of Christian Education I was able to receive."
Thanks so much for sharing, Delynne! 
submitted by Karen Dees, CCS Alumni Relations Liaison