Traffic Guidelines
Drop Off and Pick Up at Secondary Campus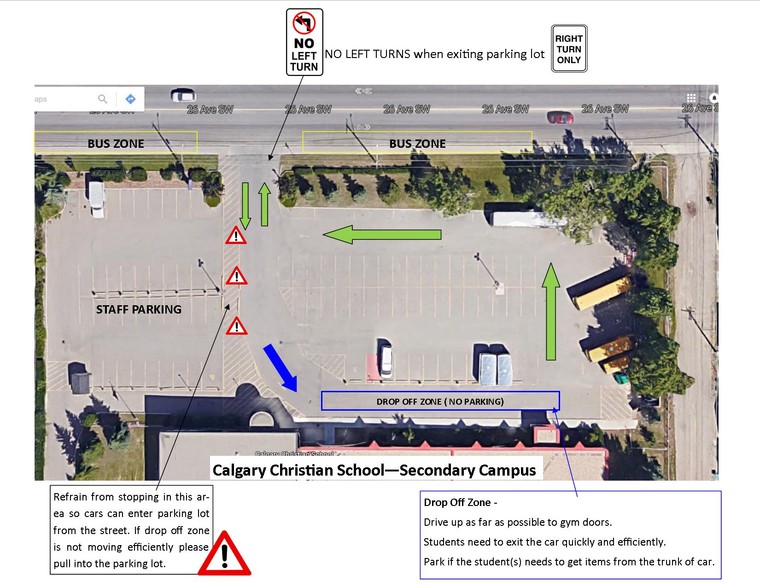 We get it:  there's a lot of pressure to get kids to school on time. And mornings in particular can be a challenge. There's adverse weather, forgetful children, and traffic congestion due to road work.  Things don't always go as planned, and many times there is someplace else you need to be.
Yet, getting our kids SAFELY to school is the MOST important thing, right? Forget the frustrations. They won't matter a bit if in the end students can't attend school because of an accident or injury.
The size and layout of our Secondary School parking lot – especially in relation to 26th Avenue – provides its own challenges. So, for the safety and welfare of everyone, here are a few reminders (and encouragements) to make the drive in and out easier, more efficient, and definitely safer:
When entering the driveway, proceed to the curb nearest the building. PLEASE PULL UP AS FAR AS SPACE ALLOWS along that curb. This means if you are the first one in or there is space ahead, you can PULL UP ALL THE WAY TO THE Gymnasium Entrance. This will allow more vehicles to get off the street and into the parking lot. The entire curb area is a DROP OFF/PICK UP ZONE                                                                                                                                  
The NO PARKING ZONE signs along the building prohibit leaving a vehicle unattended in this area. They do not refer to quick drop-offs and pick-ups. So, again, please use the entire length of the curb.                                                          
Once your student has exited/entered your vehicle, please carefully pull away from the curb – watching  for other cars and pedestrians – and proceed ONE WAY around the perimeter of the lot towards the exit. (If you are unfamiliar, this is a counter-clockwise direction first heading east, then north, then west towards the exit).                                                 
DO NOT MAKE A U-TURN IN THE PARKING LOT TO RETURN TO THE EXIT. This is extremely dangerous. You must proceed to the exit by following the One Way flow of traffic around the perimeter of the secondary lot.                              
When exiting the school parking lot, you may ONLY TURN RIGHT onto 26th Avenue. LEFT turns are not only prohibited but incredibly dangerous. The right turn only is for everyone's safety.                                                                          
Buses load and unload along 26th Avenue. This makes for some difficult sight lines. Again, exit from the CCS property turning RIGHT ONLY. Watch for students at all times.
DO NOT PARK AND WAIT FOR YOUR CHILD ALONG THE CURB ACROSS THE STREET (bordering Optimist Park). This forces students to cross in an undesignated and unsafe area. It is illegal and dangerous. Should you arrive early, feel free to park in an open stall in the school's parking lot to wait for your child.                                                                                                        
When picking up – if you arrive before dismissal and must wait – please pull up to the furthest available spot along the curb and TURN OFF YOUR ENGINES. IDLING IS PROHIBITED.