Be a Homestay Family
Welcome the World to Your Home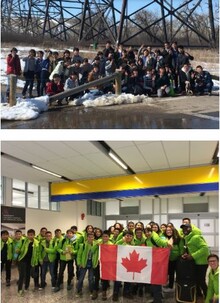 Palliser Regional Schools is looking for homestay (host) families in Southern Alberta for our International Student Program.  As a Palliser Homestay family, you will have the opportunity to enrich the life of an international student adding depth to their appreciation for and understanding of other cultures.
Hosting an International student is an engaging experience that will give your family and the student memories to last a lifetime.  Our International students come to us excited for adventure and want to experience every aspect of what it means to be part of a Canadian family.  They will happily participate in all of your day-to-day activities. You and your family will get to see our way of life, schools and community attractions, through the eyes of a newcomer.  One of the many benefits of becoming a homestay family is the opportunity to build connections with a family from another country. Many homestay families stay in touch long after the student's visit has ended.  
As a Palliser Homestay family, you will be responsible for providing food, lodging, and a supportive environment for your selected student during their time in Southern Alberta.  Homestay families are compensated financially at a rate of $750 per month, per student hosted.
More Information: https://www.palliserinternationaleducation.com/hostfamilies
If you are interested in becoming a homestay family, and would like additional information about our International Program, please contact Naomi at Palliser's Central Office at 403-328-4111, toll-free at 1-877-667-1234 or email naomi.lanz@pallisersd.ab.ca
Be a Homestay Family!