Athletics
Cougars Athletics Overview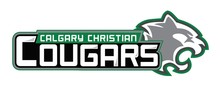 Philosophy
"Calgary Christian School is a community, called and dedicated to integrate faith and learning, reaching for excellence in equipping responsive citizens of God's Kingdom through a Christ centered educational environment."
CCS Athletics must contribute to the central purpose of education in our school. Each athlete is created to praise and serve God with their whole being – body, soul and mind. The athletic program at CCS allows for an opportunity to express our mission to integrate faith and learning and to reach for excellence. The pursuit of excellence in the areas of competition and development of physical skill and talent must be based in a firm understanding and conviction that all gifts and abilities are God given. These attributes should be reflected back to God for His glory. Players, coaches, and parents must strive for self control, perseverance, integrity, cooperation, teamwork and respect for others so that our Athletics program can uniquely create Christ-like citizens.
(Philippians 2:1-11, Ephesians 5:22-26)   
It is a privilege for students to participate in extracurricular athletics. Participation is voluntary and is not a requirement, nor an entitlement. Therefore, extra time and effort are required of those who participate. Since the reputation of the school is often judged by its extra-curricular programs, high standards must be maintained. Those who earn the privilege of representing Calgary Christian School in extracurricular athletics are expected to accept greater responsibilities as school citizens.
Participation in extracurricular athletics is open to all students provided they meet the general requirements as outlined in the CCS Athletic handbook, and any requirements specific to the activity of their choice.

Athletic Department
High School Athletic Director: Stephan Ward
Middle School Athletic Director: Mark Jonker
School Administrator: Harry Fristchy
Executive School Director: Ken DeWyn
Programs
Students can participate at the Grade 7, 8, 9, Junior Varsity and Varsity levels.
Junior Varsity teams are open to students in Grade 10 and Grade 11.
Varsity teams compete in the most competitive leagues, and are comprised of the most accomplished players in Grade 10, 11, and 12.
Calgary Christian School sponsors the following athletic activities:
Sport

Boys

Girls

Mixed

7-9

JV

V

7-9

JV

V

7-9

V

Cross Country

∙

 
 

∙

 
 
 
 

Golf

∙

 

∙

∙

 

∙

 
 

Football

 
 

∙

 
 
 
 
 

Volleyball

∙

∙

∙

∙

∙

∙

 
 

Basketball

∙

∙

∙

∙

∙

∙

 
 

Badminton

∙

 

∙

∙

 

∙

∙

∙

Track & Field

∙

 

∙

∙

 

∙

 
 

Soccer

 
 

∙

 
 

∙

∙

∙

Seasons of Play
The seasons of play have been established to protect the student athlete from being placed in a position of having sports seasons overlap. It is not desirable for a student athlete to have to attend practices and games for two or more sports on the same days. Therefore,
Each activity may hold practices according to the Alberta Schools' Athletic Association (ASAA) seasons of play.
The preceding activity has priority for practice times and games.
The trailing activity may hold practices according to the ASAA seasons of play; however, these practices should not include players of the preceding activity.
Final cuts for the trailing activity occurs (minimum) 2 try-outs after the completion of the preceding activity.


Team Fees
It is necessary for the athletic program to charge a team fee for each activity that an athlete participates in. The following applies to participation fees:
All team fees will be determined by the Athletic Directors.
An effort will be made to keep the fees consistent from one activity to the next, respective of the level of the team.
Fees are paid to either the coach, teacher sponsor, or Coordinating Council Treasurer
Players must pay fees in full, or make arrangements with the Athletic Director, before they will be permitted to participate in league games or tournaments.
The following chart shows the participation fee for each activity and specified what costs are covered by the participation fee.
If there are financial restrictions preventing a child from participating please contact the appropriate Athletic Director.  

Team fees help to offset the costs of league play, carded referees, city championships, tournaments, zones, provincials, and team shirts (select teams).
This is a general guideline for team fees that are collected prior to each sport's uniform distribution:
Middle School Sports

Approx.

Fees

Cross Country

$20.00

Golf

$70.00

Junior Volleyball (Gr 7)

$150.00

Junior Volleyball (Gr 8)

$150.00

Senior Volleyball (Gr9)

$190.00

Junior Basketball (Gr 7)

$150.00

Junior Basketball (Gr 8)

$150.00

Senior Basketball (Gr 9)

$190.00

Badminton

$20.00

Track and Field

$20.00

Soccer

$50.00
High School Sports

Approx.

Fees

Football

$ 350.00

Cross Country

$ 20.00

Golf

$ 85.00

JV Volleyball

$ 200.00

Varsity Volleyball

$ 360.00

JV Basketball

$ 200.00

Varsity Basketball

$ 370.00

Badminton

$ 25.00

Track and Field (depending on # of events entered)

$40.00

Soccer

$ 50.00
Dismissal Times
For 4:00 game times, students will be dismissed from class 5 minutes prior to departure from school.
Games @:
Bearspaw Christian School: depart CCS by 2:45
Calgary Academy: depart CCS by 3:15
Chinook Winds Adventist: depart CCS by 3:00
Clearwater Academy: depart CCS by 3:10
Glenmore Christian Academy: depart CCS by 2:45
Rundle College: depart CCS by 3:15
Trinity Christian School: depart CCS by 2:45
Waldorf: depart CCS by 3:15
Webber Academy: depart CCS by 3:15
West Island College: depart CCS by 3:00