Volunteers
 If you are interested in volunteering your time click on the Sign Up Genius button. A list of volunteer opportunities will be updated and managed through this Sign Up Genius website.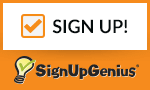 Volunteers are the best!
The community of Calgary Christian School knows that the service of our volunteers is priceless. The time, the skills, the care and the effort that is put into every job is vital to our students and staff. We believe that volunteering should be a partnership, one that is equally fulfilling for each of us.

At CCS, there are many opportunities to contribute, and we would like to help you find the place that honours your gifts, your time and also brings the greatest return. Each volunteer also has the privilege and responsibility of modelling faith to our students, staff, and others that are in contact with our school - this is an amazing opportunity and one that has the potential to make a deep and lasting impact.

Safety and Security
The safety of our students is of utmost importance to all of us, and so we insist that every volunteer in our buildings has a current Calgary Police Check on file at all times. A Palliser policy implemented in 2015 requires the police check to be completed EACH YEAR. Security clearances that have been obtained for other organizations (churches etc.) that meet the date criteria are acceptable.
You may go to either School for letters/details for application or email your request, along with your full legal name, to the Elementary Office (ccesoffice@pallisersd.ab.ca) or the Secondary Office (ccssoffice@pallisersd.ab.ca)
When volunteering in specific Elementary classrooms, we ask that there be a familial connection between the volunteer and one of the students in the class, in order to facilitate the familiarity that is important in such a setting.  There are other volunteering situations that are of a more general nature, though, such as helping to prepare hot dogs on a hot lunch day, where such familiarity is not needed, and individuals are encouraged to sign up for these opportunities as well. 
To be a VOLUNTEER at CCS:
1)    Pick up a Criminal Record/Vulnerable Sector Search request letter at the school office.
2)    Present the request letter to your local Police station or RCMP office OR complete the Police check on their website.
3)    When you receive your report from the Police please return copies of each to the school office or "share" the online record with the school.
4)    Complete the Volunteer Confidentiality Form, which is also available at the Elementary office or the Business office at the Secondary Campus.
To apply to be an APPROVED DRIVER at CCS:   
1)      Complete approved volunteer clearances – as above.
2)      Sign the Approved Driver's Forms for Palliser Schools.  Download a form here: Volunteer Driver Authorization Form 
3)     Download and complete this form: Driver's Abstract Consent Form
4)     Provide a photocopy of your Driver's Licence. 
Bring the completed paperwork and D/L directly to our front office PRIOR to Sept 25 and Palliser will submit and pay the fee.  After that date, all associated costs are the responsibility of the driver. 
* If you are allowing your child to drive with an approved volunteer driver, please complete this consent form and hand in to the Coach.
FROM THE PRINCIPAL:  
Parent's consent for transportation must be made in writing, verbal authorization is not sufficient for the liability concerns of our school.