Student Banking w/CCU
Student Banking Program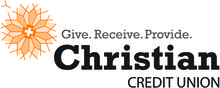 We are pleased to partner with the Christian Credit Union to offer bank accounts to our students, Kindergarten to Grade 12. This program not only assists youth with managing their money, the school benefits too!  
CCU awards savings bonuses to students that meet their grade level goal, starting in Gr1 ($1 a month times their grade. For example Grade 4 student would deposit $4 a month and the CCU would give them a $0.50 bonus for each month they deposit a minimum of $4. Students in Grades 7-12 have the opportunity to gain bonuses of up to $2.50 if they save 5 times their grade level.) All bonuses awarded to students are also matched and donated to the school so it is a win-win for all. 
Would you like to start saving and receiving bonuses? Open a youth bank account today!  PLEASE NOTE: An appointment is required. 
To open a Youth Banking Program account you will need to fill out an application, deposit $5 and have identification available. Please contact the Community Development Office by email to open an account or ask for more information. You can enroll at any time during the school year to participate!
What you need to do to open a youth banking account with the Christian Credit Union at CCS
Please schedule a time on Monday or Wednesday with the Community Development Office (located in the Elementary Campus) by email.  
Paperwork will need to be completed by both student and parent. Student's Social Insurance Number is also required if they have one.
Government issued ID is required from both the student (applicant) and parent (if applicant is 12 yr old or younger).  Examples of ID : Driver's license, passport, Alberta Health care card or Birth Certificate
A deposit of $5 or more is required to open the account. 
Once application is complete you will have a youth bank account with the Christian Credit Union and will have the ability receive savings bonuses, do online banking as well as receive a debit card if you choose. This is an official bank account.
For more details, read more on the CCU website.
Student Banking Day Schedule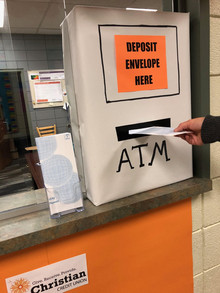 FOR 21/22 School Year - you can bring in your deposit the first three Wednesdays of each month!
Students with bank accounts at the Christian Credit Union can make their deposits on designated banking days.
At the Elementary students are to bring their sealed envelope to the Development Office (by the Gr 5/6 classrooms) for deposit into the "student ATM".
At the Secondary students can drop off their sealed deposit envelope at the Business Office. 
** Students can use their bank card to make a deposit at ANY Credit Union in Calgary**
Sept: 8, 15, 22
Oct: 6, 13, 20
Nov: 3, 10, 17
Dec: 1, 8 
Jan: 5, 12, 19
Feb: 2, 9, 16
Mar: 2, 9, 16
Apr: 6, 13, 20
May: 4, 11, 18
June: 1, 8, 15
Christian Credit Union Scholarship
Annually the Christian Credit Union awards a scholarship of $1000 to a graduating student from Calgary Christian School. Details about this scholarship and the requirements can be found here