Back to all posts
Posted on
Making lemonade!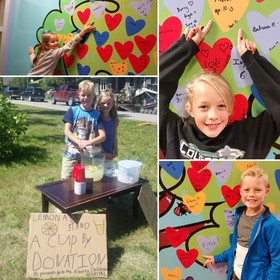 On one of the hottest days of the summer, our kids decided to have a lemonade stand.  Rather than keeping the money and charging per glass, they decided they would like to raise money for the Alberta Children's Hospital. 
They came up with the idea entirely on their own because they wanted to help kids who couldn't enjoy summer because of being sick in the hospital.  The Children's Hospital is close to our hearts as we were the recipient of the amazing care they provided to our son during a week-long stay while seriously ill a few years ago.  The kids advertised with homemade signs, by waving down cars in the neighbourhood and planting the stand strategically close to a construction site.  They raised over $245 dollars.  Many people not only complimented the lemonade but generously gave to support their inspiration of helping those not having as much fun this summer. They really appreciated meeting new people from the neighbourhood and joking with the construction workers.
The kids were also thrilled to bring the money to the hospital as they were told the money goes directly to the sick children right away, for fun activities, toys and games that they can use while staying in the hospital.
After it was all done and we had brought the money to ACH the kids exclaimed, "That was awesome! I feel good in my bones!  That was really, REALLY good!"
submitted by: Katie W, CCS Parent