Back to all posts
Posted on
One student's Senior Project combines passion, service and delicious food!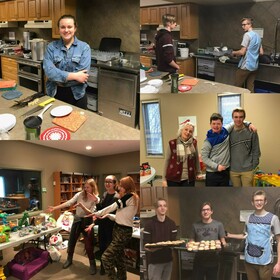 For a part of my Senior Project, with the help of the Foods 30 class, we made breakfast for Emmanuel Church's Christmas Open Pantry (on December 12th). I got the idea for doing this, with the help of Mrs. Chrest. I knew that I wanted to use the culinary skills that God gave me to serve others. Mrs. Chrest gave me the idea to provide some food for the Open Pantry because the clients that come always appreciate any food and meals that they are given. Emmanuel Christian Reformed Church hosts a Community Food Pantry each month, providing food and basic household staples to 60-70 families every time.
Preparing all of the food came together with the guidance of Mrs. Chrest and the hard work of all of the Foods 30 students. I went out and bought all of the ingredients and during class we made buttermilk muffins, raspberry lemon muffins, meat Breakfast Lifesaver and vegetarian Breakfast Lifesaver. At the open house we all took on different roles assisting the people who run the event. Serving the people at the Pantry was an eye opener because they appreciate the food as a gift, one that many people usually take for granted. Everyone there was super thankful and kind. What I learned through this experience is that it takes a lot of planning to make enough food for 70 people! I also learned how much love the people at Emmanuel Church have for their community, and how much time and effort they put into make the Open Pantries available to the community. I am so thankful to be a part of their ministry and that I was able to serve the people in our neighborhood that need a helping hand.
My Senior Project isn't complete yet!   I will be catering a dinner in April, for Emmanuel's last-Friday-of-the-month Community Dinner. I can't wait to work with Emmanuel Church again, and serve the wonderful people that attend the dinners.  
Submitted by: Micah Grasmeyer, Grade 12 Student