Back to all posts
Posted on
Artist in Residence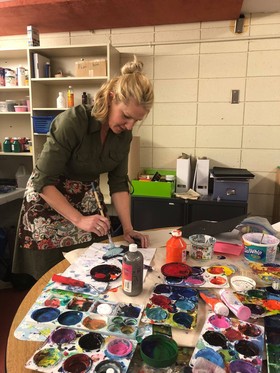 Thank-you to Mrs. Jen (DeBoer) VandenBroek (class of 1995) for spending two weeks as our "Artist in Residence" at the Elementary Campus.  Through these workshops, our students experimented with acrylic, watercolour, ink, ghost-printing and colour blending.
Students made their own 'Gyotaku', using accurate replicas of fish, reptiles and amphibians.  Each student designed a personal logo or signature, called 'Tenkoku', where the artist's initials are 'twisted' into a personal seal. The strength and originality of design in these students' seals was a pleasure to observe!
It was truly an atmosphere of artistic exploration and a rewarding time of learning together - an experience made even more rich because Jen herself is CCS alumni.  We love when the CCS community comes together like this!
submitted by: Leona Schaap, Community Development Office at CCS