Back to all posts
Posted on
"Be the reason someone smiles today..."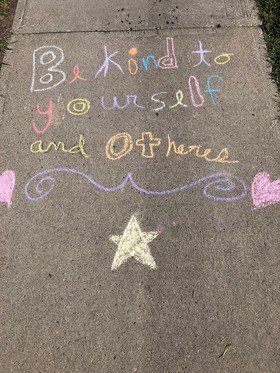 One of our grade 4 classes headed out today to share some encouragement with our neighbours by creating beautiful chalk designs and messages on the sidewalks around the school.  
It's the little things that make people smile, and you never know what kind of impact it might make on someone who is feeling lonely, sad or down.  
*note to add: It's special how God works! We heard back this amazing story: someone who just got off at the bus stop close to the school, had just lost her job that morning. She said "I was sad and wondering what I was going to do now. Then I looked down and read a beautiful and colourful message and I knew it was meant for me.  It brought me hope, so thank you."
submitted by: Leona Schaap, Community Development Office at CCS