Back to all posts
Posted on
CCS a huge supporter of RUN FOR WATER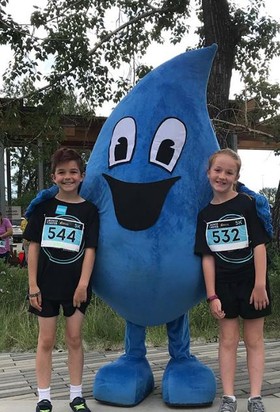 There is an organization, called Run for Water, that has been dedicated to bringing clean water to desperate parts of the world, namely Ethiopia, for over 10 years.  The Calgary branch of Run for Water took root in such a small and seemingly insignificant way, but having the chance to look back, it is clear that God has beautifully orchestrated the coming together of people and details and circumstances to grow the idea and continue to make an ever-reaching impact.  
It was in the fall of 2007 that the very first seed was planted. Joline Olson, former teacher at CCS (from 2005-2018) attended a charity event for HOPE International.  At the end of the evening, she found herself the winner of a silent auction "Runners Basket" (which, as Joline says, "was full of things only a runner could be excited about!").  It was at this same event that some organizers of HOPE told Joline about a trip being planned for November 2008, to visit water projects that HOPE was involved in. " I signed up instantly," Jolene says, "committed to raising $10 000 (which actually turned into $25 000!) and went to Ethiopia that November." 
On the trip, Joline met two people who had just planned the inaugural Run for Water in Abbotsford that summer.  "They pestered me for those 3 weeks in Ethiopia, to come home and start and Run For Water in Calgary," Joline remembers. "I told them, 'I'd help with that, but I am not the kind of person to lead such a thing, to Chair it. But I promise I'll work on finding someone who is.' "  
Fast forward several years, when in January of 2011, Joline met Jen & Duff Gibson through a mutual friend. The Gibsons had adopted two brothers from Ethiopia and as they got to know one another, Jen decided to embark on the Run for Water adventure with Joline.
In September of 2011, Run for Water Calgary held their first event, a 5k and 10k run/walk along the beautiful Bow River.  "We've now held 8 annual runs," said Joline.  "We've raised just over $500 000 total for water projects for the 61 million people in Ethiopia without safe water."  WOW!
Because of Joline's close connection to Calgary Christian School, it didn't take long for the CCS community to jump on board - and in a big way!  Over 60 CCSers participated in this year's run alone. 

One enthusiastic supporter is Noelle Kilbreath, a CCS student, who in 2015 had the amazing opportunity to travel to Ethiopia with Run for Water.  Invited by Joline herself, Noelle joined 14 others in raising enough money to supply a rural village in Ethiopia with a sustainable source of drinking water, as well as building a school, in the hopes of giving the children of that community a brighter future. "To this day, I feel so lucky and so grateful. Mrs Olson, the teacher who invited me into that crazy adventure, is one of the best people I've met, and to go through an experience like that with a teacher was incredible," Noelle said.  Even though the trip was about three years ago, Noelle describes the impact it continues to have on her life.  "One of my biggest things I learned about myself [through this experience] is that I'm still learning about my passions. I thought that being there would make me deeply passionate about clean water for Ethiopians, and don't get me wrong, it absolutely did! But I also found myself wondering about the social aspects of Ethiopia and other countries, and about equality of people and of women all over the world."  Continuing, Noelle says, "In 2017, Meryl Streep made a speech where she said 'Take your broken heart and make it into art', and that really struck me. The people at Run for Water are driven, inspired and inspiring. They are taking their broken heart for the people of Ethiopia and making it into something beautiful. I know what that looks like to see people passionate, and I am so inspired. I don't know exactly what my broken heart looks like yet, but I know that it's possible for me to make a difference, and I'm excited to find out what it is!"
Another supporter of Run for Water is Naomi DeKlerk, a CCS parent and a current member of the Run for Water board.  "Our family has participated in the run since it first started," Naomi says. "It was our way of giving back to Ethiopia and supporting the country that our son came from." Naomi and her husband Jeff (CCS alumnus class of 1999) are parents to three children, the oldest of whom is adopted.  "We owe a great debt to Ethiopia and are forever connected to this country. This run is one small way we can give back to Ethiopia. It is also one small way to help families meet their basic need of water. It provides health and security and allows girls to attend schools (rather than spending their time collecting water)."  Now, as a board member in her third year, Naomi is the event organizer and a part of the operations committee. 
This year's Run for Water was held on June 9 and around 700 people participated, over 60 from the CCS community!  From young students attempting their first 5k to entire families running the race together, it was an incredible event!  The next race day is Saturday June 8, 2019. Registration will be open in early November (a great Christmas gift idea!). The 2019 event will feature a new distance- a 61km ultramarathon, to be done as individuals or a relay team of 2, 3 or 4. Anyone interested in sponsoring, volunteering, donating, or helping in other ways can contact calgary@runforwater.ca.  
Joline's response to the seeds planted in her heart many years ago only continues to grow!  Let's keep up the momentum and take wisdom from her example. "There may be a few regrets I have at the end of my life," Joline begins, "but working to get safe water for people won't be one of them. My mom taught me to always leave a thing better than I found it. My time with the Calgary Run For Water is really, quite simply, about doing that. I'm just one of God's children, making the world a slightly better place."
submitted by: Karen Dees, CCS Alumni Relations Liaison