Back to all posts
Posted on
Checking in with CCS Alum, Kimberley (VerHulst) Belez (Class of 1985)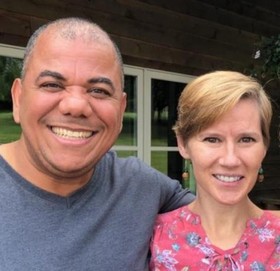 We moved from Toronto to Calgary when I was in Grade 6, my sister in Grade 4 and brother in Kindergarten. My dad was a pastor, which meant we did not have a lot of money, but a Christian education was always a priority for my parents. We lived in Falcon Ridge in the NE (at the time, it was the very edge of the city!), so we had to leave home at 7:15am and take city buses to be at school by 9:00. It made for long days since we did not get back home until 5pm or later.
What I really appreciate about my CCS education is the way we were exposed to a variety of experiences and subjects. I was encouraged to write creatively, read and analyze newspaper stories, write a mock resume and budget, I went on a trip to Bamfield Marine Station, tried weight lifting, squash, curling, etc. and learned about the world beyond Canada. I didn't realize it at the time, but I was well-equipped for the 'real world'. For example, when I went to Calvin College in the U.S., I was surprised at how much more I knew than most of my American classmates about subjects like the Vietnam War, the USSR and other important world history.
There were years in my 20's and 30's when I wandered far away from my faith, including a bad marriage. My mom died in 1995, my marriage ended a decade later. Thankfully, God is faithful, even when we are not! Through an Alpha class in 2004, I began to seek a relationship with Jesus Christ in a way I never had before. As I reconnected with my faith, I began to recall things about the Bible that I had learned growing up (including at CCS).
My career has been quite eclectic. I have worked in Human Resources in meat and poultry processing plants, been a Church Administrator, and a Missionary. I am currently an Office Manager for a Free Clinic
(providing medical care for low-income adults who do not have health insurance). Having had an education where I learned to think creatively and to do more than just 'regurgitate' information helped me to adapt to many different jobs.
My husband, Carlos, and I met in the Dominican Republic in 2011 where I was a missionary with Students International for 3 years. We had both been married before, and he told me he wanted to marry someone who loved Jesus more than she loved him. We both praise God for His mercy in bringing us together.
Last year my Dad died and we started to look at what we were doing with our lives. My dad lived out his faith by serving with the Christian Reformed Church as a Home Missionary and Pastor. We felt God calling us to pursue full-time missions once more. God has opened a door with Resonate Global Mission in the Dominican Republic, starting in November. We will be helping to equip local pastors and church leaders in some of the poorest areas of the country. They love Jesus, but have not always had the opportunity to learn how to study the Bible. We believe that a Gospel-based church is a healthy church, and that healthy churches can help transform communities. Resonate has been at work in the DR since the 1980's, and has helped to establish 16 Christian Schools. This was a direct result of believers there desiring that their children would be taught with a foundation of faith.
As faith missionaries, we need partners in prayer and finances. We invite the CCS community to take a look at our information and hope you will pray about partnering with us. While we are around 3,200km away, we would love to chat by email, phone or Skype with anyone who might like to learn more.
Thank you, and Dios les bendiga (God bless you!)
For those who want to check out more or would like to financially support Kimberley and her husband, check out Resonate info at https://www.resonateglobalmission.org/belez
Or follow Carlos and Kimberley's new blog:
http://belezblog.blogspot.com/
submitted by Kimberley Belez, CCS Class of 1985