Back to all posts
Posted on
Class of 1993 Reunites!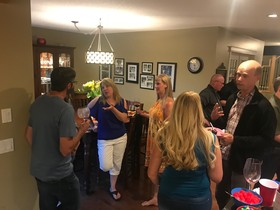 While a class reunion might not seem like everyone's favorite event to attend at first glance, there is really something comfortable and reassuring about meeting up with old friends and classmates, even if many years have passed.  High school dramas have lost their sharp sting, cliques and blatant teenage differences really do melt away as the years go by. And the apprehension of seeing people again, sometimes after many decades even, quickly dissipates as conversations pick up where they left off.  
The Class of 1993 held their 25 year reunion on Saturday, July 21 - a casual evening of drinks and appetizers at the home of one class member.  Many classmates made the effort to attend, even traveling long distances to be there.  "I found it interesting that even though I personally hadn't kept in touch with anyone, there was a familiarity and comfort there," said Laura (nee Vanderveen) Vink.  "Even though we had lost touch for 25 years, it was still a special circle to reconnect with.  Certainly there were some changes, but there was definitely a bond there; a safe space." 
Another class member commented on the legacy CCS grads can enjoy - a real gift to treasure.  "I am thankful, after 25 years, to see that the investment our parents made to have us attend CCS was worth it-in the successes we can celebrate, the faith we have, the friendships that continue to this day," says Hendrik Greidanus.  
The memories made and the relationships forged in high school do make an impact, whether alumni realize it or not.  The blessings of attending Calgary Christian School are many; from small class sizes to possibly meeting your future spouse, from sharing a common faith to enjoying special connections with teachers, long after moving on.  Even if those memories have almost been forgotten and few friendships fostered since graduation, a reunion is a worthwhile event to plan and attend.  It's about celebrating the commonalities and reminiscing about good times gone by.  It's about viewing life as it is today, through the lens of who and what shaped our childhoods. It may even rekindle a sweet friendship or open up opportunities that never would have been possible otherwise!  
If your class would like to plan a reunion, there is help and resources available: Contact Karen Dees, CCS Alumni Relations Liaison at kdees@calgarychristianschool.com.
submitted by: Karen Dees, CCS Alumni Relations Liaison