Back to all posts
Posted on
Encouraging and Empowering Girls with "Enlighten": Krista Tells Her Story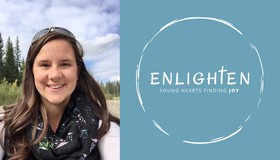 After passing the 20 year mark since graduation from CCS, I've been looking back on this life I have lived and I realize that I never really left the community of Calgary Christian School! I am and will forever be a "lifer"!  After high school I continued to help out with the CCS sports program by coaching girls basketball for several years. Between coaching and working as a lifeguard and swimming instructor for the City of Calgary, I met my amazing husband and we started a family.  So 4 kids, one dog and 3 moves later, I am back living in the Glenbrook area, this time as a stay at home mom, all four of my children attending Calgary Christian School. I spend a lot of time volunteering at school and church, sing and playing keyboard on the worship team and I am also co-leading the women's coffee program. Life has come full circle as I once again walk these halls with all my kids, and giving back to the community that gave me so much is now my focus.
Recently, I launched a girls empowerment program called Enlighten. I want to help teenage girls (ages 10-14) discover the power of self confidence, embrace their unique selves and find courage in God's word as they navigate a world full of negative self-talk and social pressures. Our daughters are God's masterpieces, created with unique gifts. Embracing a true calling to live as daughters of Christ will help our young girls find Christian joy in all circumstances and stand confidently in a noisy, pressured-filled world.
In Enlighten, we focus on self image and physical, mental, emotional and spiritual health. We spend a lot of time talking about God's call to live a life of gratitude and joy in all circumstances. We also participate in team activities where the girls are required to step out of their comfort zones. When we dive deep and step out of our comfort zones, true learning and growth happens!
A 2-day intensive class is running Nov-23-24 and limited space is available.  For more information or if you have any questions about the sessions, please contact me at enlyht10@gmail.com or check out my Enlighten facebook page.
 submitted by Krista (Vanderwerff) Houweling, CCS Class of 1998 and current CCS parent