Back to all posts
Posted on
Ending Bible Poverty in Canada? [how a CCS alumna is helping to do just that]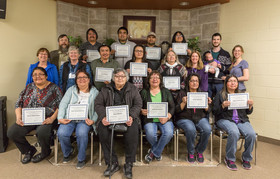 Anytime we feel like it, we can hear the Bible read in English or study it for ourselves. We take it for granted that we can read its truths whenever we want. However, there are millions of people who don't know that God loves them and have no Scripture in their own language to hear about that love. Although these people are often poor in the sense of lacking money, their greater poverty is that of lacking the Bible.
Consider some of the Indigenous people who live right here in Canada, particularly the Cree people.
Surrounded by a wealth of English Bibles, they still lack the Scripture in their own language. Why would they want to hear about a God who speaks English, the same language they may have been forced to learn as a child when they were taken from their families? There is no light of Scripture to shine truth into the darkness, into the cycles of pain that they live in. This has been highlighted over recent years in Cree communities where youth suicides have reached extreme levels.
We cannot sit back and ignore this situation happening in our own country. It is time to step up!
Who better to do this than the Canadian church which once took away their language and attempted to suppress their culture. Whatever the intentions behind such actions, we can see the effects of those
actions today in the loss of identity and cycles of abuse. As the Canadian church today, we have the responsibility to take action towards healing and restoration. The first step in this process is giving them back their language. Writing down a language that was previously only spoken gives that language and people group a sense of value and worth. Where they may have felt marginalized, giving them a book, the Bible, in their own language shows their importance not only to God but to society. Even more than providing validation, the translated Scripture speaks truth in the midst of the lies that oppress and haunt them. God's Word brings light into darkness and sets people free from their chains. When hurting people hear the voice of God in their heart language, it touches them as no other language can. 
Let's end Bible poverty in these communities! The Cree Initiative has already begun, consisting of translation projects in five related Cree languages. The first translated portions of Scriptures of Oji Cree are being used in the church already.
I am very excited to be a part of this project! Through my role as Director of Partnership Development with Wycliffe Canada, I help ensure that the missionaries serving with the Cree Initiative have full teams of prayer and financial partners. Without those teams, the missionaries cannot serve and the project will literally come to a halt. Having served with Wycliffe for over 12 years and been part of a translation project in East Africa, I fully understand the huge impact translated Scriptures can have in a community and also the obstacles that stand in the way. This has made me more committed than ever to see that same transformation occur here in Canada - so I am calling on the Canadian church to step up and get involved!
We need to pray for the Cree translators and the Wycliffe missionaries facilitating the translation project. Pray for all the partnerships with local churches, schools and businesses and families,which are making these translation projects a reality. Pray for lives to be transformed as the Scriptures are being used. Funds are also required for the project to move forward and for all of us individual Wycliffe missionaries whose salaries come through financially partnering with us. This project will not happen without generous partners. Alternatively, you can also volunteer or serve full-time with Wycliffe Canada or any other partner organization involved. Let's not sit by while people live in poverty from a lack of Scripture, especially our Canadian neighbours.  

For more information or to get involved, check out Wycliffe Canada. Find a more in-depth look at the Cree Initiative here.

submitted by Rachel (Workentine) Elyas (CCS Class of 2000)